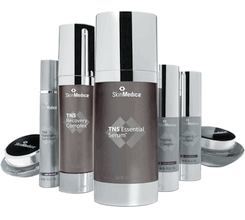 SkinMedica is world-renown for its scientifically advanced skin care, ranging from antioxidant recovery complexes to retinol to TNS, a patented compound of growth factors and pharmaceutical-grade collagen.
Founded more than a decade ago by dermatologist Dr. Richard Fitzpatrick, SkinMedica offers a complete line of extremely high-quality skin care products that utilize proven skin rejuvenators such as vitamins E and C, retinol, tea tree oil and salicylic acid. Achieve healthier, more youthful skin with the help of SkinMedica's superior formulations.
SKINMEDICA® STOCK UP SALE
Receive 15% OFF When You Spend $200 or More on SkinMedica® Products and Total Elite Members
Receive a Complimentary Black Travel Bag with Trial Size SkinMedica® Facial Cleanser, HA5® and Replenish Hydrating Cream
*Cannot be combined with Total Elite VIP discount. While supplies last. Limit 1 free product per person. Free gift will be given together with the order. Add to cart and discount will apply.